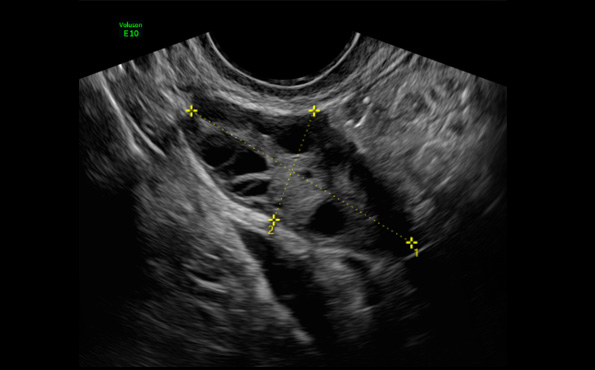 PELVIC ULTRASOUND-
GYNECOLOGICAL IMAGING
Pink Door Imaging offers pelvic ultrasound exams for patients. Pelvic ultrasounds also known as gynecological imaging can accurately diagnose pelvic abnormalities. A pelvic ultrasound exam is a non-radiological and a safe diagnostic imaging tool. The exam produces real-time images that show pelvic organs and abnormalities. Pink Door Imaging utilizes state of the art Samsung HS70A ultrasound system newly acquired in 2017.
WHAT IS A PELVIC ULTRASOUND?
The pelvic ultrasound, also known as a gynecological imaging, is performed to evaluate pelvic symptoms. This state-of-the-art exam provides detailed images of the uterus, ovaries and other pelvic structures using high-frequency sound waves. There is no radiation used in this exam. Pelvic ultrasound exams can help clinicians and patients make educated decisions on management of symptoms. Dr. Shetty specializes in Pelvic ultrasound and women benefit from his 22 years of practice experience focused on Breast and OBGYN imaging.
Pelvic Ultrasounds can help diagnose possible causes for or abnormalities such as:
Pelvic or abdominal pain
Fibroids
Abnormal uterine bleeding
Pelvic masses
Pelvic Infections
WHY CHOOSE Pink Door Imaging FOR BREAST IMAGING AND PELVIC ULTRASOUND?
Dr. Shetty and his friendly staff strive to provide a boutique experience at Pink Door Imaging in Houston. Dr. Shetty believes in a continuum of care with efficient and timely communication of findings and discussion on further management with the referring doctors. The Pink Door Imaging is dedicated to helping patients understand findings of their examination as needed. Dr. Shetty is a pioneer in breast imaging and pelvic ultrasounds, making them easily accessible to anyone. The Pink Door Imaging exams are more affordable when compared to major hospitals. All major insurances are accepted, and rates negotiated with private payors are very closely aligned with Medicare allowable fees.